A Spiritual Approach to Mindfulness: Should You Try a Christian Meditation App or Personalized Wellness Support?
In a challenging world filled with constant pressures, finding moments of peace and tranquility has become increasingly important for many individuals. Mindfulness and meditation have emerged as popular practices to help cultivate a sense of inner calm and well-being. While numerous wellness services are available, there is a growing demand for options that align with one's spiritual beliefs, such as a Christian meditation app or faith-based mental health support.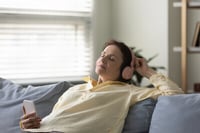 For young adults and generations comfortable accessing care on their mobile devices, apps that exist to encourage a sense of calm have become increasingly popular. Secular apps for this purpose include soothing bedtime stories, visualization exercises, and curated music. Meditation can, however, be intimidating, and some people may be concerned it doesn't align with their personal spiritual beliefs and practices. Another option available for those navigating life's challenges is live phone support from trained, like-minded peers. Both can be beneficial depending on the individual's needs and comfort level.
Should I Try a Christian Meditation App?
Mindfulness can be practiced by anyone and has become increasingly accessible. Some of the top Christian meditation apps include daily prayer and guided practices that encourage the listener to release what's on their mind to God. By blending the ancient practice of meditation with biblical teachings, it provides a holistic approach to well-being.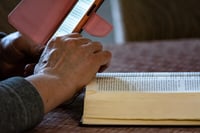 For individuals who find solace and strength in their Christian faith, deepening their spiritual connection while reaping the benefits of mindfulness is easy to do with just a few taps on their phone screen. Meditation apps that offer a Christian perspective on mindfulness can be a convenient and easy tool for anyone looking to slow racing thoughts and feel a sense of calm in their everyday lives.
Incorporating faith into mindfulness practices can offer a deeper sense of purpose and meaning. The best Christian meditation apps not only guide users through mindfulness exercises but also integrate Christian values and scripture. This combination can provide individuals with a greater sense of connection to God, allowing them to align their thoughts, actions, and intentions with their spiritual beliefs.
How Personalized Wellness Support Can Help Christians
Apps are user-friendly and easy to access, but for those looking for a more personalized approach to mental health and well-being, one-on-one peer support can be a blessing. Services like Kindly Human, available through the Liberty Rise health-sharing program, provide individualized, empathetic listeners to aid members in their respective mental wellness journeys.


This is different from telehealth or formal appointments with doctors. It's an opportunity to have a conversation with a certified Trained Listener who will offer anonymous, nonjudgmental support on a variety of life topics. When feeling alone, facing a challenge or going through an experience that is heavy on the mind, this can be a great way to open up to someone who understands. The Kindly Human program includes 60 minutes of free sessions each month for members of Liberty Rise, the medical cost-sharing community designed for people 18 to 29 years old.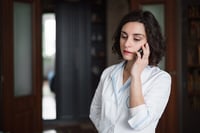 One of the greatest benefits of a health-sharing community that offers wellness services is its emphasis on fostering a sense of fellowship. By sharing the burden of one another's health needs, there are opportunities for users to connect with like-minded individuals who share their Christian faith and mindfulness goals. By participating in a Christian health-sharing community, users can engage in meaningful conversations, share experiences, and find support on their spiritual path.
It Starts With Prayer and Scripture Readings
Meditative practices can enhance emotional and mental well-being for individuals from all walks of life. Combining these practices with Christian spirituality, apps, and personalized wellness support can offer a unique approach that may further support individuals in managing stress, anxiety, and negative thought patterns. The integration of scripture and prayer can provide comfort and guidance, promoting a sense of peace and tranquility.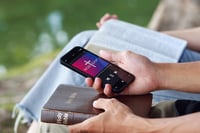 Prayer and communicating with God are powerful, and mindfulness can help Christians achieve inner peace. Disruptive thoughts can be soothed through a tool such as a Christian meditation app for sleep, and talking with understanding, like-minded people can enhance mental wellness.
Liberty HealthShare offers a distinct approach by combining mindfulness with Christian spirituality. Each week, our members receive a devotional email from Pastor Wes Humble with readings and prayers intended to encourage reflection and prayer. An excerpt from a recent "Walking in Faith" devotional is below.
Prayer: Lord, send your rain into my soul today. Send a prolonged shower of your presence. I need you now more than ever. I thought life would get easier, but the older I get the harder it seems. Let your rain bring new life in me. Amen.
Liberty HealthShare is Here for Your Mental Wellness Journey
By incorporating faith-based principles, personalized wellness support and building a community, individuals seeking a spiritual approach to mindfulness can get the tools and resources they need.

Whether you are a devout Christian or simply curious about integrating your faith into your mindfulness practice, Liberty HealthShare may be the perfect choice for embarking on a journey of spiritual growth and self-discovery. To learn more about Liberty Rise or our other programs for individuals, couples, and families, contact us today.