Business Owners Take a Step of Faith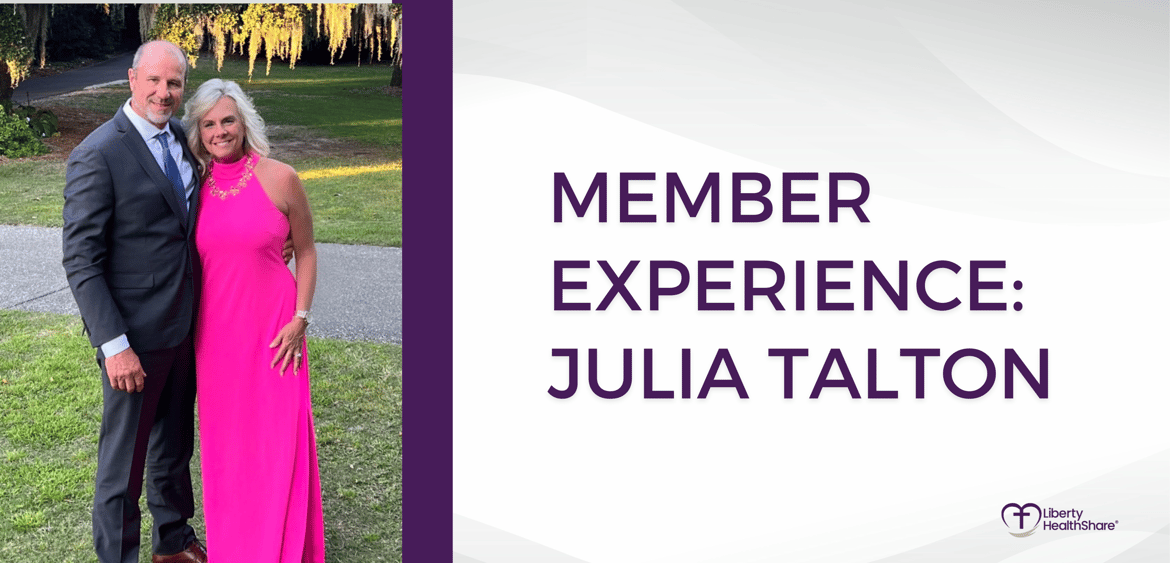 Liberty HealthShare member and business owner, Julia Talton, makes it her mission to share how being a part of Liberty HealthShare helps her, and her family, save on their healthcare costs.

Members since 2017, Julia and her husband Michael own two businesses, one that provides clearing and grading services and one that focuses on rental properties.

Before becoming members of Liberty HealthShare, Julia and Michael used health insurance. However, as many others discover, it had simply become unaffordable.

As she embarked on her health sharing journey, Julia wasn't familiar with health sharing ministries, and she didn't know if providers would accept them or what they had to offer.

After researching Liberty HealthShare, along with other health shares, Julia knew she wanted to take a step of faith and trust God in the face of uncertainty. As she learned about Liberty HealthShare, Julia saw that the monthly share amounts were reasonable, and the annual unshared amount (AUA), which is similar to a deductible, was affordable.

"This past year we've had multiple health issues that have required a variety of hospital stays, tests, and treatments," said Julia. "I was anxious about how it was all going to work out, but the members of Liberty HealthShare pulled through for me and shared my expenses. But we also know that we need to be active sharing members as well, so there were some expenses that we paid ourselves. We think that's the way it should be."

A common question people have about health sharing in general is if health sharing ministries pay the provider. Julia always says, "Yes, they do!"

In light of the ever-changing healthcare landscape, Julia encourages others, such as her friends who also own businesses, to consider learning if Liberty HealthShare is right for their situation. "It's the best option for those of us who are self-employed, when health insurance premiums and deductibles are absolutely ridiculous."

But it's not just the savings that Julia appreciates – the community means just as much. "Liberty HealthShare has been good for us. To know that there are other Christians like us who care means the world to us," she said.